On Thursday, I'll be performing as featured soloist with the Toronto Winds. I'll be playing Howard Cable's Point Pelee and Jules Levy's Grand Russian Fantasia at the Atlantic Festival of Music. The festival brings students from across Atlantic Canada to southwestern Ontario, and the concert will be held on campus at Western University.
We performed the same program at Hart House at the University of Toronto on April 21. It was a great concert – congratulations to Dylan Maddix on launching this new ensemble!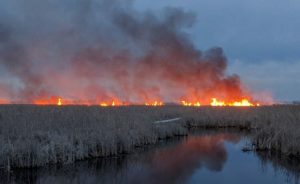 Howard Cable wrote Point Pelee as the middle movement of a larger piece for band, Ontario Pictures, but at heart it is a beautiful song and has been transcribed for many instruments. The title refers to Point Pelee National Park, the southernmost point in mainland Canada and a beautiful bird sanctuary. Point Pelee was recently hit by a major fire.
In 2011 I created this video of Point Pelee, from a live performance with pianist Maureen Volk and using Creative Commons-licensed images from the park:
Grand Russian Fantasia was written by cornet soloist Jules Levy. The piece uses well-known Russian tunes as a means to show off Levy's amazing technique. This piece has always been a favourite among cornet solos, but more recently it was popularized by Wynton Marsalis and the Eastman Wind Ensemble, with a new arrangement by Donald Hunsberger:
Related show